For non-80's babies who didn't catch or care for the "He-Man" reference in my headline, I feel a more surefire approach to labeling our blog posts may be necessary going forward.
But before we proceed, there are a couple of things you should know about me:

I'm not funny … although I'd like to

think

I'm funny. Therefore you must forgive me because I will be trying my darnedest to make you snicker, smirk or smile because, really, that's what makes my job worthwhile.

I'm an advocate of easy-to-read, user-friendly websites. So when we write, we will try to make paragraphs short and easy-to-digest. When we do layout

and design, we promise eye-candy will take a backseat to usability. Nevertheless, we will try to make the entire experience easy on the eyes. Some stunning scenery to stimulate your senses along the way should help make your journey that much more enjoyable.
So anyway, like I was saying, we're introducing some straight-to-the-point graphic sigs to help you determine if a blog post is worth your time.
We know tagging stories is handy, but nothing beats inserting a functional (yet decorative) typographic treatment to identify certain topics, like a How-To or a Product Review.
And so, without further ado, I'd like to take a stab at penning a product review about the new Powerhead I just picked up for our 24-gallon AquaPod.
So, what is Powerhead exactly? I'm glad you asked…
A Powerhead, dear reader, is a small water pump that can be completely submersed in an aquarium. They are generally used to provide water circulation—which is why I bought one—but also power protein skimmers, wavemakers and/or undergravel filters.
Based on recommendations by both my boss and one of our customer service reps, I purchased the Hydor Koralia 1 Circulation Pump/Powerhead for $37.99 from the MarineDepot.com website.
Installation was quick and easy, with no small parts or assembly required. In fact, this puppy was ready to go right out of the box.
It's a good thing, too. I hate reading instruction manuals.

The Hydor Koralia has a suction cup on one side with a magnetic support for the outside of the tank. To setup, all you do is attach the Powerhead to the wall of your tank and plug it in. That's it!
For something so simple to setup, the effects could not be more dramatic. The instant we put the Hydor Koralia in our tank a week ago, everything began to spring to life.
Our Midas Blenny and False Ocellaris Clowns now swim around the entire tank. Pre-Powerhead, King Midas (our Blenny) would only sit inside a hole in the live rock, opening and closing his mouth. Now we enjoy his brilliant yellow color daily as he patrols his turf at the front of the tank.
Krusty and Pennywise, our clowns, used to migrate together to the top-rear of the aquarium by the pump, which I never understood. Now they are constantly abuzz, cruising around exploring areas of the tank they never used to visit.
I have to say, though, that I am most pleased with how the Powerhead has influenced the behavior of our Reef Haitian Anemone and corals.
Our anemone looked a little, I dunno … flaccid when we first put it in the tank. I was worried about its health because I'd read they were hard to care for and my boss cautioned us about putting one in the tank so soon.
It's now behaving like I've read about in the forums, burying its base into a crevice of live rock for protection while the long, purple-tipped tentacles sway in the current.
Our Sun Coral and Star Polyps are also benefiting from the increased water circulation. The Sun Coral emigrated from a coworker's tank after failing to thrive in a 3-gallon aquarium. The polyps' normally orange skin tone has now returned and the beautiful yellow branches protract for its daily feeding (and presumably, to show off in front of other coral).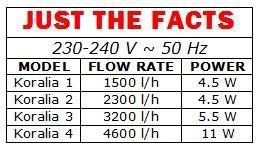 The water is clear, the light is bright and everything appears healthy and harmonious.
Oh yeah: just in case my personal account isn't enough to convince you to invest in a Powerhead, I've included a fast-facts spec box for more tech-obsessed reef keepers out there.
Well, until next time … that's all folks!